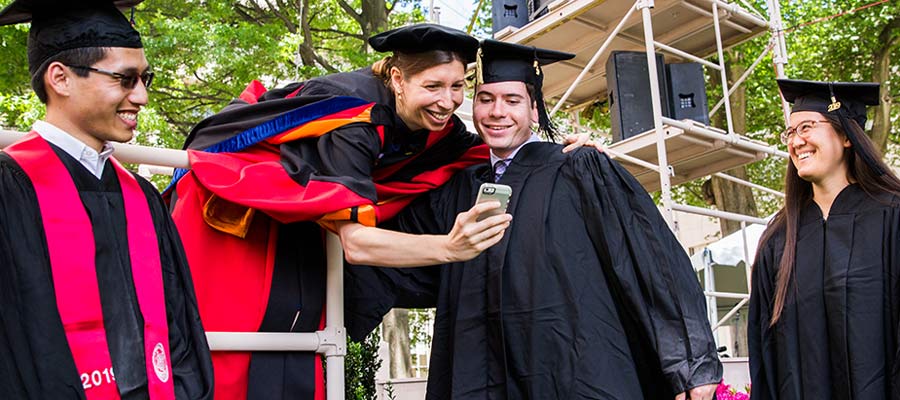 Due to the COVID-19 pandemic, we ask that you please visit the COVID-19 and Commencement 2020 plans page for the most up-to-date information. Thank you.
Commencement: Friday, May 29, 2020
The Exercises begin when the Academic Procession enters Killian Court at 10 am and ends at approximately 2 pm. The names of graduates are read by eight members of the MIT administrative staff, alternating between Bachelor's and Master's recipients.
Professors (all levels of appointment and professors emeriti) and senior lecturers are warmly invited to march in the Academic Procession and to be seated on stage during the ceremony.
Registration and regalia ordering will open for faculty ~March 16.
Professor and Senior Lecturer robing and assembly
Participating faculty are asked to report to the assembly tent on Kresge Oval the morning of Friday, May 29 by 9:15 am. The procession departs at 9:45 am. Continental breakfast will be available from 8:30 am. Enter the tent via the Kresge Auditorium lobby on the Student Center side—and please join us no later than 9:30 am: the door will be closed at that time.
Weather: Commencement is held on Killian Court except in the case of extreme weather (i.e., electrical storms or hail). Although faculty are seated on the stage and therefore sheltered from rain, you do have to walk across the grass to get there. You will want to keep this, and the temperature, in mind when choosing what to wear with your regalia. In case of severe weather, faculty still would assemble on Kresge Oval. You can check for a change in plans after 7 am on the morning of Commencement by calling ext. 3-SNOW. The ceremony would be moved to Rockwell Cage for the graduates, faculty, and Corporation members; guests would watch the exercises via closed-circuit television at various locations around campus.
Security
Please note that the robing and assembly area on Kresge Oval will not be secure after the procession leaves. Please do not bring anything of value with you, nor leave anything there.
Parking
On Commencement Day, some lots are closed so they may be used for guest parking; these changes will be announced prior to Commencement. For more information, please contact the Parking Office.
Refreshments
Continental breakfast will be available in the assembly area, and there will be a bottle of water under your seat on the stage.
After the ceremony
The stage assembly recesses through Killian Court, and all participants, graduates, and guests are invited to School and department receptions. Reception information will be sent to you by your department(s) and will be available within the schedule page once details are available.