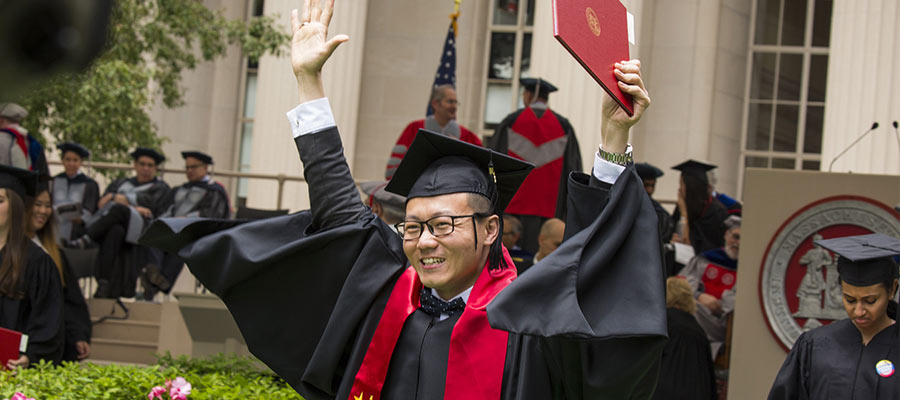 Commencement 2021 celebrations will take place online: details, including how and when to view the program, will populate the Class of 2021 page throughout the spring.
GradImages is the professional photo provider for MIT graduation.
Doctoral Ceremony (PhD/ScD): graduates will be photographed at the moment of hood investiture, at the time of diploma presentation, and as they exit the stage (a total of three photos).
Commencement Exercises (Bachelor's and Master's): graduates will be photographed at the time of diploma presentation and again as they exit the stage (a total of two photos).
How to order
Ordering information will be sent from GradImages to the families of undergraduates (candidates for the SB) and directly to advanced degree candidates (Master's and Doctoral candidates).
Forgot to place your order? Don't worry: photo order forms will be available onsite during the graduation ceremonies. Please visit the information tents in Killian Court.
Why order the professional photos?
The best way to obtain close-up photos of graduates as they receive their diplomas is to order the professional pictures from GradImages.
Killian Court has very few seats with unobstructed views of the stage—and guests are not permitted to approach the stage during the events.
There is not a designated area at the front of the court where photos can be taken.
Guests are not permitted to stand in chairs or in the aisles at any time, both for reasons of safety and because to do so would block the views of others.
Order photos from prior ceremonies
Please visit GradImages for ordering information. If you have questions about the photography, please contact the company by phone: 850-907-2740. For other contact methods, please visit the GradImages webite.