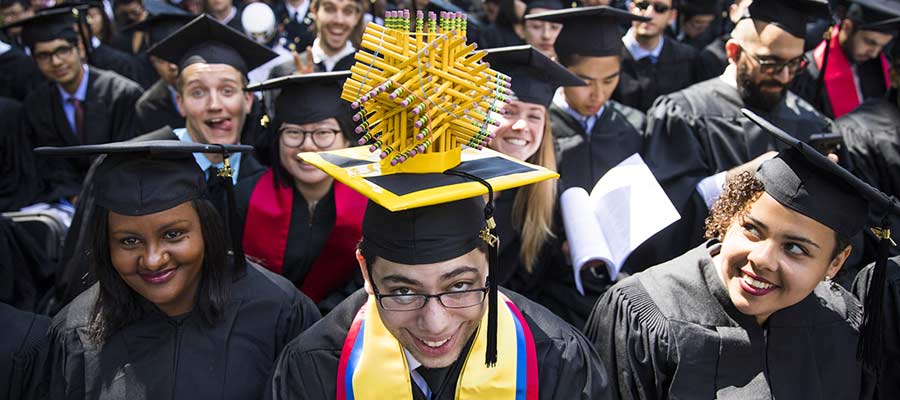 Commencement security information for guests and graduates
Please remain alert to these pages for the most up-to-date security information—Thank you.
There will be metal detectors in place at Killian Court (see ceremony schedule) and a number of items are prohibited; please discuss these measures with your party so everyone knows what to expect. Attendees are advised to pack lightly for the day because all items taken into all ceremony venues are subject to search—the less they are carrying, the more quickly the party will be able to proceed through security.

The following items are PERMITTED in ceremony venues:
Snacks and beverages in plastic or paper/cardboard packaging. Plastic bottles, juice boxes, and disposable coffee cups are all ok. Water is available free of charge inside Killian Court.
Cameras
Phones
Diaper bags and related items (formula, juice boxes, wipes, creams, diapers, toys, etc)
Purses or similar, personal small bags, including tote bags and briefcases. Personal bags of this nature should be no larger than 16x16x6 inches (or approximately 40x40x15 centimeters)
Reading material, whether printed or electronic (Nook, Kindle, iPad, etc)
Laptops and tablets
Keys
Personal medical supplies
---
The following items are PROHIBITED in ceremony venues:
Bags with wheels
Bags whose size exceeds 16x16x6 inches (or approximately 40x40x15 centimeters)
Wrapped gifts
Glass bottles and containers
Firearms, knives (including pocketknives), and other weapons
Scissors and other sharp objects
Mace, pepper spray, or similar substances
Selfie sticks
Drones
Large objects
Attendees are asked to consider the appearance of some objects, such as key ring tools/accessories, and leave anything that could be perceived as dangerous at home or in the hotel room. Service animals are welcome at Commencement ceremonies, but no other pets of any size will be permitted inside ceremony venues. Further, we discourage balloons or anything else that would block others' view of the ceremony. Attendees may carry an umbrella to outdoor ceremonies, but open umbrellas are not permitted while seated. Please note that prohibited items will be confiscated and not returned.

Guests are advised to carry government-issued ID (such as driver's licenses, state ID cards, or passports).