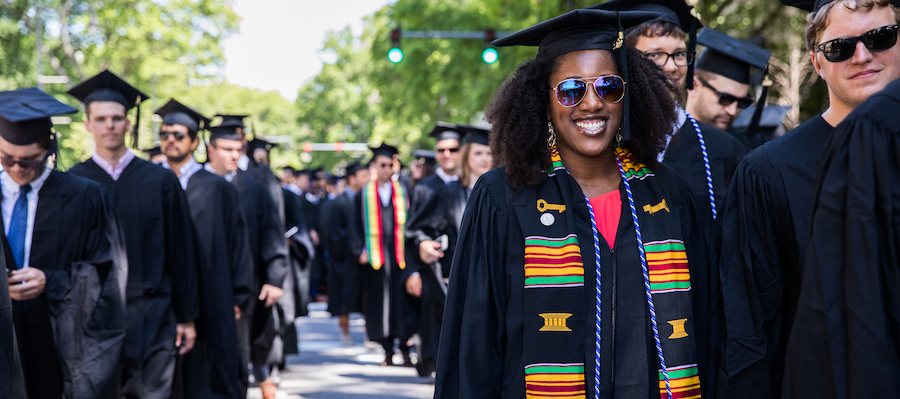 The Commencement 2023 ceremonies are scheduled for May 31, June 1, and June 2.
All graduates participating in the 2023 MIT Commencement ceremonies MUST wear regalia. All graduates (not including Executive MBA candidates) MUST use the Commencement section of the MIT Atlas app on a desktop or mobile device to indicate whether they will be ordering it from the MIT Coop. Before indicating your regalia plan, make sure you have the latest version of the MIT Atlas app installed on your desktop or mobile device. The MIT App Store has links to download or update the app from the Apple, Google, and Windows app stores. Questions about the MIT Atlas app may be directed to atlas-app@mit.edu.
Be aware that your guest tickets for Commencement will not be released unless you provide proof that you've made regalia arrangements.
Looking for faculty regalia info? See details in the Faculty section.
Regalia options for graduates
You have three options for obtaining your regalia. Please select one of the following:
OPTION 1: Order your academic regalia from the MIT Coop using the MIT Atlas app. Note: ordering regalia through the MIT Atlas app is now closed. However, a limited number of caps and gowns are available from the MIT Coop. If you are in need of regalia, go to the pick-up location in Lobby 13 starting May 18 to see if your size is available to purchase or rent with cash or a credit card. The full regalia pick-up schedule is below.
OPTION 2: Borrow academic regalia or purchase from an alternate vendor and verify that you will do so by emailing your regalia receipt or a photo of you wearing your regalia to regalia-alt@mit.edu.
OPTION 3: Those who are receiving advanced degrees and are in active military service may wear the prescribed dress uniform instead of academic regalia. (Undergrad ROTC candidates: you wear cap and gown for Commencement.)
---
Need help?
If you encounter any problems submitting your regalia order via the MIT Atlas app, please first confirm you are on the degree list by contacting the Registrar's Office at records@mit.edu.
If you have confirmed that you are on the degree list, email regalia@mit.edu for help completing your order. Should you encounter issues with the MIT Atlas app, please contact atlas-app@mit.edu and include a screenshot of the issue, if possible.
PhD/ScD candidates: your Doctoral hood will be provided to you by MIT... you do not need to order the hood with the rest of the regalia.
Regalia pick-up: dates and location
Your regalia will be available for pick-up beginning on Wednesday, May 17 in Lobby 13 (13-1143). 
If a representative is picking up your pre-reserved regalia, please provide them with the QR code for your regalia order from the MIT Atlas app or your MIT ID.
Regalia pick-up schedule (in Lobby 13):
May 17: 12 pm to 5 pm
May 18–20: 9 am to 5 pm
May 22–26: 9 am to 5 pm
May 30–June 1: 8 am to 5 pm
June 2: 8–10 am
Doctoral rental return schedule: Dates and locations
Regalia rentals must be returned to staff in person with your MIT ID in Lobby 13 (13-1143).
Doctoral rental return schedule:
Friday, June 9 is the deadline for returning rented PhD regalia. Failure to adhere to the terms of the rental agreement will result in a charge from a late fee up to the full retail value of the regalia.