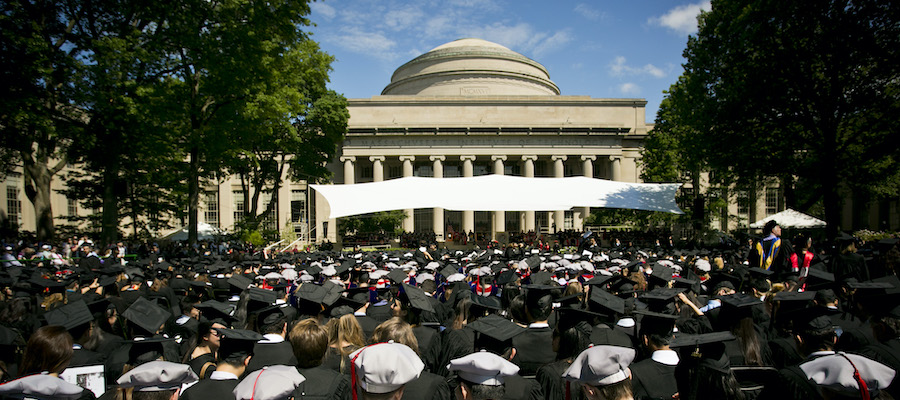 Access needs for graduating students with a disability
If you are a degree candidate with either a disability or a medical situation that would prevent you from assembling and processing to the 2023 ceremonies, please contact Dean Elizabeth Cogliano Young by Friday, April 21 so that arrangements can be made.
---
Accessible guest seating
For guests with disabilities, there are designated seating sections. If someone in your family requires special assistance, you may wish to request tickets in a disability seating section. Seating in these areas will be by reservation only and special tickets will be issued instead of the standard tickets.
Guests seated in this reserved section will need to remain seated at all times throughout the ceremonies. There will be no standing for viewing purposes allowed, as this obstructs the view of those who are unable to stand. Please keep this in mind as you determine whether a request for tickets in this area is right for your family.
Student Disability Services will have ambassadors and wheelchairs available for guests who need assistance from the drop-off area to their seats. NOTE: These chairs will be used solely to transport guests to and from the accessible seating sections. For more accessibility information, please see our list of services and resources below.
To request tickets in a Disability Seating section, please fill out the online request form. Note, your request for disability seating tickets does not need to be universal: you may submit a request for one ceremony only if that is all your family needs.
Please refer to our guest FAQ for further information—and review the campus accessibility map. For questions, please contact Disability Access Services at 617-253-1674 or email das-student@mit.edu.
---
Ceremony services
Accessible parking and drop-off locations
Details about accessible parking and drop-off locations will be added to the parking, shuttles, and road closures page in late May.
Assistive listening
Assistive listening devices for use during the ceremonies may be reserved by contacting the MIT Audio-Visual Services Office at (617) 253-1674. Otherwise, devices will be available on a first-come, first-served basis.
ASL
There will be American Sign Language interpretation of the opening/closing remarks and speeches at each ceremony.
Questions? Please contact Student Disability Services.
Captioning
Live captioning will be available via personal mobile devices.
For guests beyond Cambridge: all webcasts will be captioned.
---
Local services
Accessible taxis
We recommend first calling the accessible Cambridge Taxi program at 866-654-1003.
Other area companies include:
Ambassador Cab
617-492-1100
Checker Cab of Cambridge
617-497-9000
Top/City Cab of Boston
617-536-5100
Wheelchair rental and oxygen
If you need to stay in a wheelchair for the duration of a ceremony, we recommend that you rent a wheelchair. These local companies have been used by guests in the past:
Gary Drug Company
(617) 227-0023
59 Charles St., Boston, MA 02114
Belmont Medical
(617) 484-3888
185 Belmont St., Belmont, MA 02478
Apria Health Care Services (oxygen)
(781) 551-4415
575 University Avenue #2, Norwood, MA 02062