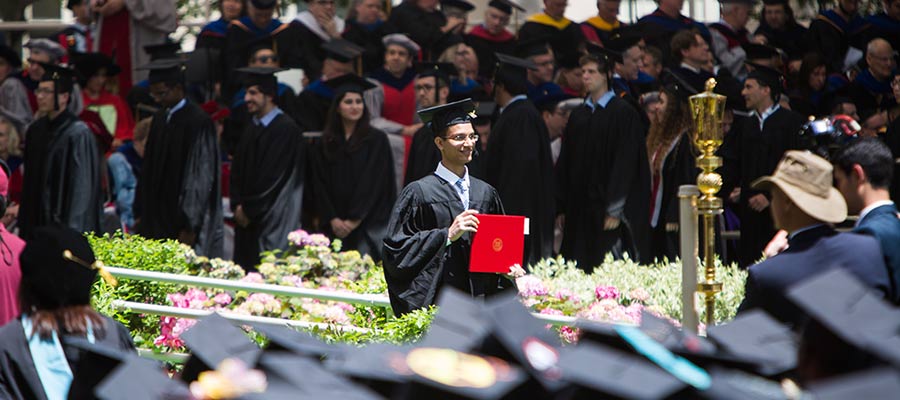 For the most current information about Commencement 2020, please visit the COVID-19 Commencement page.
Congratulations! You have worked hard to reach this point. As you prepare to receive your degree, please keep these things in mind:
Check WebSIS to make sure that there are no outstanding grades, obligations, or financial charges that would prevent you from receiving your degree. Remember, you are responsible for closing any loops.
Only students being awarded a degree may participate in the graduation ceremonies. While the Registrar's Office will not contact students who are cleared to graduate, they will contact those on the degree list who are not cleared after the degree candidates meeting.
International students who would like to request a letter of invitation for family members who need a visa to visit the United States to attend the graduation ceremonies can request the invitation letters directly in iMIT. After logging in to iMIT, select F-1 Student Services or J-1 Student Services, depending on your visa status, and then select Letter of Family Invitation.
Information about reporting time and stations for the graduation ceremonies will be posted in this site and emailed to you in the weeks prior to the events.
All graduating students are eligible to receive a digital diploma at no cost. Download the Blockcerts Wallet app on your mobile device before May to ensure that you receive your digital diploma as soon as it is available.
Be sure to fill out the Graduating Student Survey (from career-survey@mit.edu) or the MIT Doctoral Student Exit Survey (from phdexit@mit.edu).
More information, including key dates and deadlines, is available at the Registrar's website. Please contact the Registrar's Office if you have further questions.
Don't forget! Watch your email for important graduation instructions and alerts.