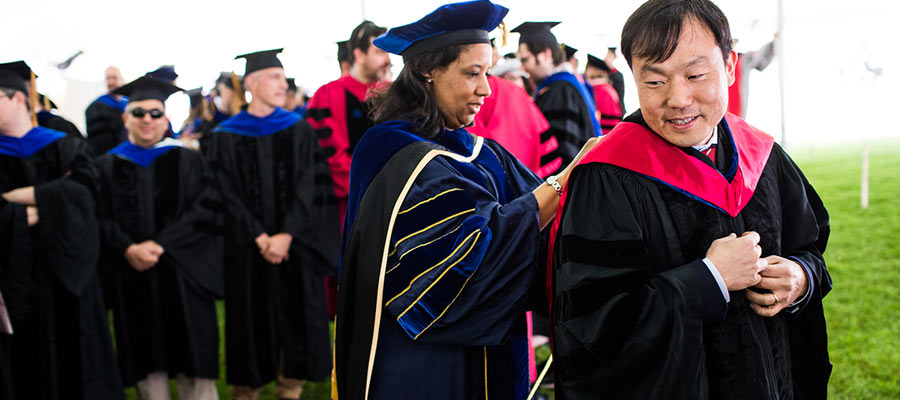 Regalia
Professors and senior lecturers may rent regalia or wear their own regalia. The online form to order regalia will be made available ~March 16. Please check back at that time.
Regalia rental pricing
Cap, gown, and hood rental: $78
Cap and gown (no hood): $48
Regalia pick-up and return schedule
Pick-up: 9 am – 4 pm, Wednesday, May 27 and Thursday, May 28 in room 8-119; on May 29 (Commencement morning), regalia may be picked up in the faculty robing tent
Returns to room 8-119: Friday, May 29, immediately after Commencement to 4 pm; Monday, June 1, 9 am – 4 pm
Contact
Questions about registration and regalia may be directed to Kimberly Nelson.
Tickets
If you are marching in the Commencement procession, you do not need a ticket. Tickets are not required for the Investiture of Doctoral Hoods and Degree Conferral ceremony.
A note about Commencement guest tickets: Due to the increase over recent years in the number of graduates and their guests at the Exercises, faculty guest tickets are no longer offered as a matter of course. However, individual faculty requests will be reviewed by Chancellor Eric Grimson—please send a note with the pertinent details.