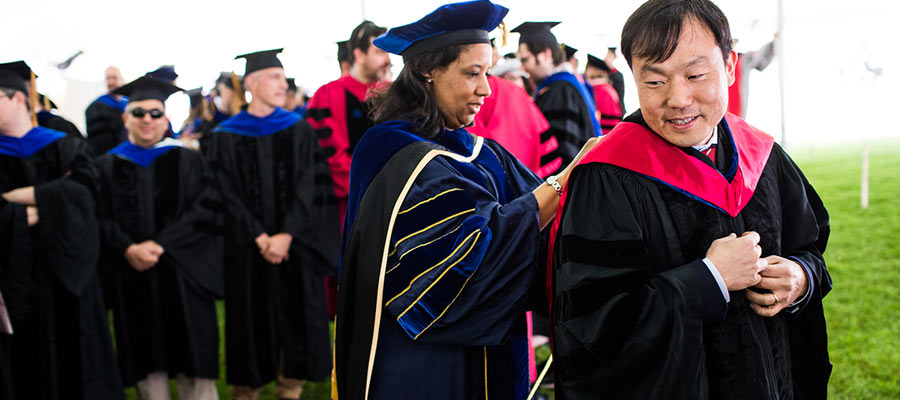 Regalia and tickets
Commencement 2022 celebrations took place during the week of May 23, 2022, with the majority of the Advanced Degree Ceremonies taking place on Thursday, May 26, followed by the OneMIT Ceremony and the Undergraduate Ceremony, which took place on Friday, May 27.
Commencement 2023 is scheduled for June 1 and June 2 of next year. More information will be provided later this year. 
Regalia
Faculty and lecturers may rent regalia or wear their own. Please note that the deadline to order rental regalia has passed. Due to supply chain pressures, regalia orders needed to be in earlier than past years. If you are still in need of regalia, please indicate this on the registration form. The form is still open to register your plans to attend the Commencement ceremonies.
Pick-up
Regalia pick-up will be Commencement week (May 23-28) from W-20-100 (the former location of Anna's Taqueria) from 10am-4pm.
Returns
Regalia returns will also be Commencement week (May 23-28) as well as Tuesday, May 31 from W-20-100 from 10am-4pm. 
Contact: Questions about registration and regalia may be directed to Kimberly Nelson.
Tickets
If you are marching in any Commencement ceremony, you do not need a ticket, but you do need to register via the online form. 
A note about Commencement guest tickets: Due to the increase in the number of graduates and their guests, faculty guest tickets are not offered as a matter of course. However, individual faculty requests will be considered: please send a note with the pertinent details to James Poterba, Mitsui Professor of Economics and chair of the Commencement Committee.