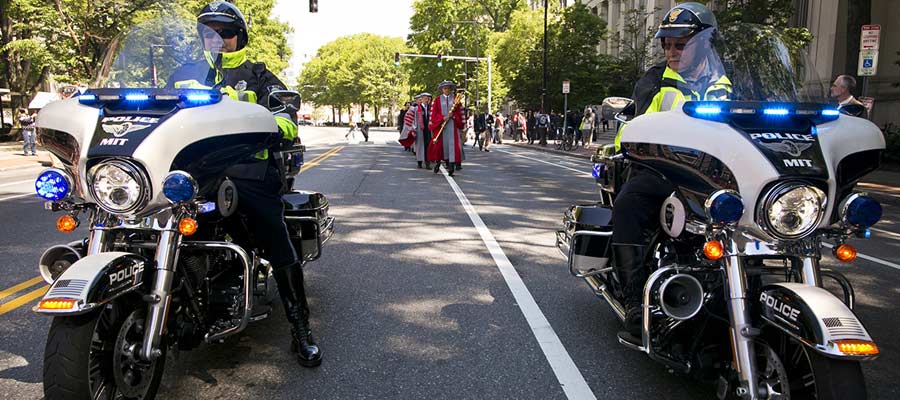 Parking at MIT
Please note: On-campus parking is extremely limited.
LIMITED guest parking will be available in the garage at 32 Albany Street (only accessible from Main St). We urge ceremony attendees to plan ahead for the likelihood of the garage being full when you arrive on campus. ⇒Review public parking options
Guests may be dropped off at on-campus ceremony venues, including the entrance to Killian Court and Briggs Field (250 Vassar St, across from Simmons Hall.)
Disabled parking
Limited parking is available on Memorial Drive and in the Westgate Lot adjacent to Briggs Field for holders of state-issued disabled placards ONLY. If you do not have a state-issued permit, you may drop members of your party at the ceremony venue before proceeding to park at another location.
---
Members of the MIT community who drive to campus should review the Campus Community section for any changes that are in effect during Commencement time.
Shuttles
Shuttles will be running on May 26, 27, and 28, with stops that include Killian Court, Briggs Field, the Kresge area, and Kendall Square. Please see the shuttles map below. 
Tech Shuttle
Runs from 6:15am-11pm on Thursday, 6:15am-1am on Friday, 7:30am-12pm on Saturday*, and 7am-1pm on Sunday for Tech Reunions Shuttles Only
Every other Tech shuttle will be accessible.
*Service will be interrupted on Saturday at approximately 9:15-10:15am due to road closures for the Academic Procession.
EZRide Shuttle
Runs from 6:30am-7pm on Thursday and Friday
The Shuttles map below only shows the Midday route for the EZRide. For the morning and evening routes, please visit the EZRide site.