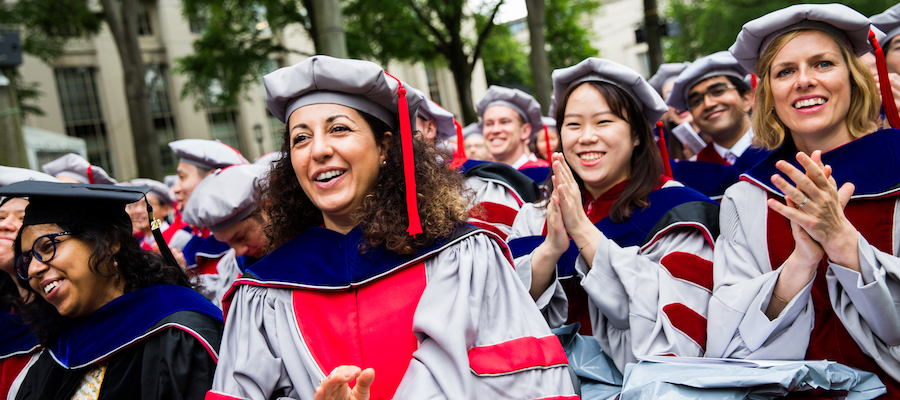 All graduates participating in Commencement 2023 ceremonies are eligible to receive up to four (4) guest tickets for the OneMIT Ceremony in Killian Court.
Those receiving Bachelor's degrees are eligible to receive up to four (4) guest tickets for the Undergraduate Ceremony in Killian Court.
Those receiving advanced degrees from the following schools are eligible to receive up to four (4) guest tickets to their respective Advanced Degree Ceremonies: 
Advanced degree candidates in the Sloan School of Management should consult their program managers regarding tickets for those ceremonies.
See
schedule
.
Obtaining electronic tickets
Before obtaining tickets, be sure to download and carefully review the following important information for the ceremonies in which you are participating:
You may now use the desktop or mobile version of the MIT Atlas app to obtain electronic tickets to the Commencement ceremonies* for which you have RSVP'd. You will receive separate tickets for each event. Before obtaining your electronic tickets, make sure you have the latest version of the MIT Atlas app installed on your desktop or mobile device. The MIT App Store has links to download or update the app from the Apple, Google, and Windows app stores.
Once in the MIT Atlas app, click on the Commencement tile then tap "Add tickets" for a ceremony and you will be presented with the option to obtain up to four (4) guest tickets for that ceremony. Once claimed, you will be able to forward the ticket to your guests, who may either show them on a mobile device or print them for scanning at the door.
Graduates attending the OneMIT Ceremony need personal tickets to enter the venue. Graduates do not need personal tickets to degree ceremonies.
* MIT Sloan advanced degree candidates: you will obtain your OneMIT personal and guest tickets via the MIT Atlas app. Please consult your program managers for instructions on how to obtain tickets to your degree ceremony.
Other things to note:
You will be able to forward electronic tickets to your guests. If your guest loses the email, you may always return to the MIT Atlas app to forward the same tickets again.
Tickets will be scanned on arrival. Attendees may present the electronic ticket or a printed PDF.
Tickets are transferable: if you have an extra ticket, you may share it with a friend.
Tickets are required for attendees three (3) years of age and older. Babies and children ages two (2) years and younger do not need tickets.
If you are on the degree list and participating, you will get your tickets. Do not worry about tickets "selling out."
General queries about tickets may be directed to commencement@mit.edu. Questions about the MIT Atlas app should be directed to atlas-app@mit.edu.
Tickets for MIT Commencement ceremonies may not be bought or sold under any circumstances.
Viewing locations
On-campus, indoor viewing locations will be available during the OneMIT Ceremony and the Undergraduate Ceremony. These venues are an excellent option for guests who either prefer to sit indoors or do not have tickets to enter the ceremony venue. No tickets are required for the indoor viewing locations; seating is open. See full list of indoor viewing locations below.
Building 1: 1-246, 1-273
Building 2: 2-105, 2-131, 2-151
Building 3: 3-270, 3-333, 3-370
Building 4: 4-231, 4-237, 4-270, 4-370
Building 6: 6-120
Building 10: Huntington Hall 10-250
Building 26: 26-100
Building 32: Kirsch Auditorium 32-123
Building 34: 34-101
Building W16: Swraj Paul Theater at Kresge Auditorium and the Little Theatre